April 2008
From Shrewsbury with Love...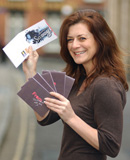 A Shrewsbury design business has become the only agency in Shropshire to be featured in a prestigious book.
Featuring artwork created by top graphics specialists, the 'postcard' publication called 'From the Midlands with Love', includes a striking design from Stylus, of Shrewsbury.
"We are delighted - it is a real honour for Stylus Design and for Shropshire to be chosen for this book," said Rebecca Owen, creative director of the College Hill-based company, which employs six people.
"The publication displays the talents of graphic designers, illustrators, character designers and web specialists from across the Midlands.
"It showcases the talents of only 10 people and is being sent to the country's top PR, publishing and advertising agencies to raise the awareness of the high standard of design work being produced in Shropshire and the whole region," she added.
It was Rebecca's graphic art piece, called 'Marketing Savvy' which was chosen for the book, the idea of Media Content Lab, part of Birmingham City University.
Stylus Design specialises in web development, graphic and print design. For more information or to obtain a copy of 'From the Midlands with Love' please contact Rebecca on 01743 242313 or email [email protected]